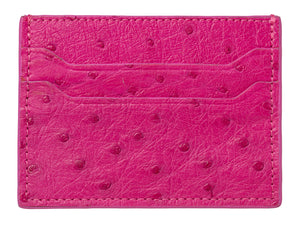 Card Holder OS 888 Hibiscus Matte
Material: 100% Genuine Ostrich Leather for extra durability and soft premium Cowhide lining on the inside.
Leather Finishing: Glazed
Colors availability: Tangerine, Black, Serpentine, Kango Tabac, Antique Brown, Brilliant Blue, Navy, Violet, Hibiscus, Baby Pink, and Turquoise.
Structure: Minimalist design with 5 card slots.
Compact Size: 100mm (length) x 75mm (height) x 2mm (width).
Skilled craftsmanship combined with high-quality premium Ostrich leather results in a posh cardholder that is truly durable and distinctively classy.
This tasteful leather cardholder is slim and its compact size is ideal for everyday convenience. It fits nicely into your pouch or handbag and embellishes your outfit by being a chic fashion statement.
Show off your sophistication with this elegant Ostrich leather cardholder. It is also a fantastic gift idea for Birthdays, Christmas, and other special occasions.