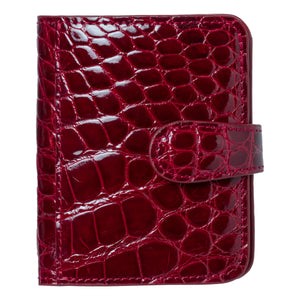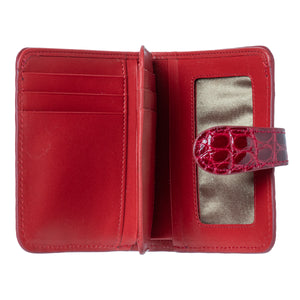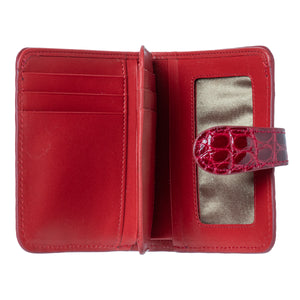 Ladies Card Holder NSB 81401 Wine Glazed
Material: 100% Genuine Crocodile Leather for extra durability, soft premium Cowhide lining on the inside, and sturdy snap button closure.
Leather Finishing: Elegant Glossy / Glazed finishing
Colors availability: Black, Brown, Violet, Ink, Grey, Pink, and Wine.
Structure: 15 card slots, 1 notes compartment for money bills, and a functional ID holder window compartment.
Compact Size: 85mm (length) x 105mm (height) x 15mm (width).
Made with high-quality leather craftsmanship that can withstand the test of time. This stylish slim leather ladies cardholder creates a bold accessory statement while never going out of fashion.
Its bi-fold slim compact size is ideal to put in your handbag or comfortably hold in your hand. At the same time, this functional cardholder design ensures that your credit cards, business cards, discount cards, cash and ID photo identification/driving license are all well-organized to meet your daily needs.
This sophisticated ladies' cardholder is a classic timeless design, making it suitable for all ages, occasions, and dress codes. Perfect as an indulgent gift for yourself, or for your loved ones during Birthdays, Valentine's Day, Wedding Anniversary, Mother's day, or other significant events.