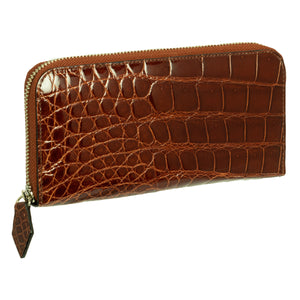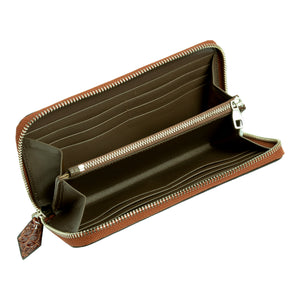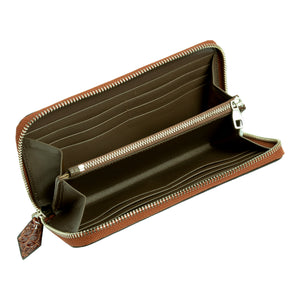 Ladies Long Purse NSB 6742 Gold Brown Glazed
Material: 100% Genuine Crocodile Leather for extra durability, soft premium Cowhide lining on the inside, and good-quality smooth zipper closure for convenience.
Leather Finishing: Luxury Glossy / Glazed finishing and Stylishly Chic Matte finishing.
Glossy leather colors availability: Iris, Violet, Navy, Black, Gold Brown, Royal Blue, Emerald, Wine, Flame, Mandarin, Camel, Gris, Blue Grey, Silk Cream, Hibiscus, Salmon, and Amethyst.
Matte leather colors availability: Apple, Grafite, Black, Brown, Brilliant Blue, Fire, and Light Grey.
Structure: 14 multi-function card slots for credit cards, business name cards, discount cards, etc. Also comes with 2 notes compartment for money bills and a spacious coin pouch center compartment.
Slim Wallet Size: 190mm (length) x 100mm (height) x 20mm (width).
Crafted using high-quality crocodile leather, this classy bi-fold long wallet clutch is well-made and durable. It is slim enough to fit perfectly in your handbag and hold comfortably in your hand.
Stay well-organized and secure with its functional design that comes with multiple card slots, cash compartments, and a zipper coin pouch.
Express your elegance while showing off your timeless fashion style with this classic long purse wallet. It also makes an ideal gift for your loved ones during Birthdays, Valentine's Day, Wedding Anniversary, Mother's day, or other significant events.