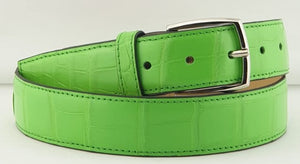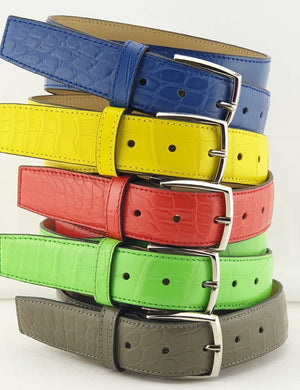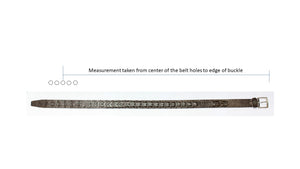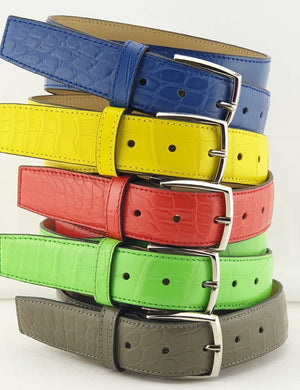 Men's Belt NMB 35mm Fern Matte
Material: 100% Genuine Crocodile Leather for tough durability and luxurious Cowhide lining on the inside. Sleek single prong buckle is made of brass (Italy made buckle), which is scratch-resistant and does not fade over time.
Leather Finishing: Contemporary Dressy Glossy / Glazed finishing and Classic Stylish Matte finishing.
Glossy leather colors availability: Black, Brown, and various other colors like Navy, Gris, Ice Grey, Gold Brown, Nicotine.
Size variations: 3.50cm/1.38'' (width), 86.36cm/34" – 101.60cm/40" (length), 0.2cm/0.08'' (thickness).
Measurement of belt size is taken from the center hole of the belt. The belt has 5 holes, the measurement of the belt size is taken from the 3rd hole to the buckle.
Crafted using high-quality leather products and skilled leather craftsmanship, this exquisite crocodile leather men's belt is made to ensure maximum durability and never go out of style.
This classic yet sleek men's belt design allows you to jazz up your formal suit pants or add some extra style to your casual attire with ease. It is a long-lasting accessory piece that every man can rely on and wear proudly, whether at formal occasions, at work, or for romantic dates.
Combining durability, versatility, and style, this crocodile leather belt is a timeless piece for men of all ages. It is a luxurious but essential accessory for your wardrobe and it makes the perfect gift for Father's Day, Valentine's Day, Christmas, Wedding Anniversary, and other special occasions.